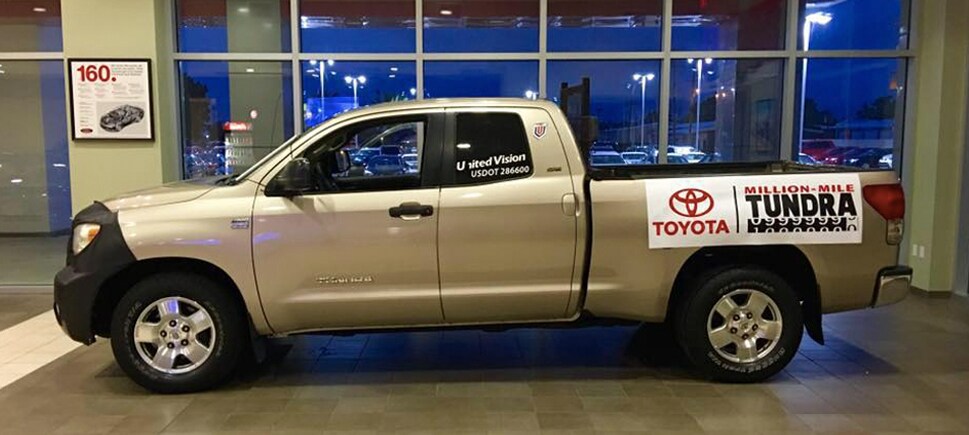 Do you want to know how durable and reliable Toyotas are? This ought to give you a good idea.
Recently, Toyota lover Victor Sheppard's 2007 Toyota Tundra was just added to the Million Mile Club. Yes, it's less than 10 years old. This man racked up over 100,000 miles A YEAR.
Through all of the wear and tear, this Tundra still has its original paint job, V6 engine and transmission. This is the 16th Toyota that Sheppard has owned. It's clear to see why he likes Toyotas so much.
Our Toyota dealership in Golden Valley just outside of Minneapolis, Minnesota loves reading stories about this. The Toyota Tundra, which is available at our store, is a tremendous truck that offers incredible power, safety, space and reliability. This is a perfect example of that.
Aside from a few very minor maintenance check-ups, Sheppard's Toyota Tundra has had zero issues.
"My truck looks great," he says. "Except for a few little dents, it's almost like new. Even the seats look just as they were when I bought it. They're not as clean, of course, but they're not busted or worn out."
So, how did Sheppard accumulate so much mileage in a short amount of time? He claims he regularly drives from his home in Louisiana to his job in North Dakota, Wyoming and Virginia. That's some serious driving.
If you want to keep up with everything that Toyota is doing, follow us on our
Facebook page.
We provide Toyota news and cool stories, Minnesota-related posts and dealership specials.
If you'd like to check out the everlasting 2016 Toyota Tundra, we have it in our
online inventory.
Go Toyota!
Looking for the 2017 Toyota Tundra near Minneapolis, MN? We have it.
Click here
if you're looking for Toyota service in Minneapolis, MN.
Click here
if you're looking for
Toyota parts
in Minneapolis, MN.
Click here
for directions to our Scion dealership in Golden Valley, MN.
Rudy Luther Toyota Scion is a Toyota and Scion dealership that provides new and used cars for sale to customers in Golden Valley and Minneapolis, Minnesota. We also sell to people in Crystal, St. Louis Park and Minnetonka, Minnesota.