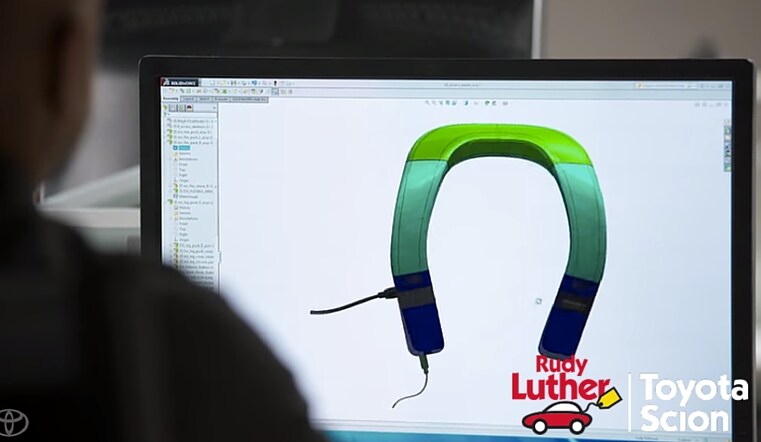 If you've ever kept up with Toyota even just casually, you know that they're always working on something big. The company is all about innovation -- and not just with vehicles.
Right now, they're developing a mobility device for the blind, which will make their world so much easier.
The device, currently named Project BLAID, will use cameras, speakers and vibration motors to communicate with the user. The user will use it through voice recognition and buttons.
This is in the early stages of development, but it's a priority that's very high up on Toyota's list. They said they will spend over $1 billion over the next 5 years to fund the project.
"Toyota is more than just the great cars and trucks we build," manager of Toyota Partner Robotics Doug Moore says, "We believe we have a role to play in addressing mobility challenges, including helping people with limited mobility do more. We believe this project has the potential to enrich the lives who are blind and visually impaired."
This isn't the first time Toyota has stepped out of their comfort zone to create something innovative and useful. They successfully created the Human Support Robot, which assists the elderly in living comfortably and independently.
Project BLAID will go into beta testing soon. So while we might not see this device for a few more years, it's coming sooner than we think.
What are your thoughts on Project BLAID? We personally love it.
Contact our Toyota dealership
in Golden Valley, Minnesota for more information. Are you looking for the 2016 Toyota Camry for sale in Minneapolis, MN? Let us know.
Click here
if you're looking for Toyota service in Minneapolis, MN.
Click here
if you're looking for Toyota parts in Minneapolis, MN.
Click here
for directions to our Scion dealership in Golden Valley, MN. Are you looking for Scions in Minneapolis, MN? Reach out to us.
Rudy Luther Toyota Scion is a Toyota and Scion dealership that provides new and used cars for sale to customers in Golden Valley and Minneapolis, Minnesota. We also sell to people in Crystal, St. Louis Park and Minnetonka, Minnesota.