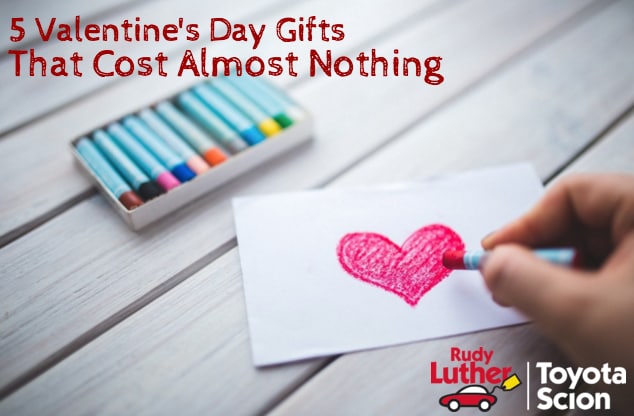 Sometimes, people are under the impression that they have to spend a ton of money in order to impress their loved one.
That's not true at all.
Reminder: you can actually make him or her feel loved, without breaking the bank. In fact, you barely have to spend any money at all.
We suggest that you go out and spend a little bit, but there's also plenty of things you can do that will hardly cost anything, and will show your creative side. We came up with a list of 5 helpful suggestions. Feel free to use them.
1) Breakfast in bed. It's a classic, and if you have a cabinet full of food already, then this may not even cost you a dime. Guys, this'll really make her feel cherished and appreciated. We hope you know how to cook.
2) Write a love poem. It doesn't have to be perfect. Heck, it can even be humorous. Have fun with it, be silly and enjoy yourself. If you're loose about it and put some effort into it, your loved one is going to think it's awesome.
3) Write love sticky notes and put them on the bathroom mirror. List the things that you love most about him/her. They're going to smile wide when they walk into the bathroom first thing in the morning and see this.
4) Make a date night idea jar. Fill it with cute ideas that you and your loved one can do together. Whatever he/she picks is what you'll do. This adds a bit of mystery to the day, which can be fun.
5) Make a timeline of your relationship. Get a long string, attach notes to it, and in chronological order write out the best memories you have with him/her. Nostalgia is always a great way to spend time with your loved one. They'll really like this.
Good luck!
Contact our Toyota dealership
in Golden Valley, Minnesota for more information. Are you looking for the 2016 Toyota Camry for sale in Minneapolis, MN? Let us know.
Click here
if you're looking for Toyota service in Minneapolis, MN.
Click here
if you're looking for Toyota parts in Minneapolis, MN.
Click here
for directions to our Scion dealership in Golden Valley, MN. Are you looking for Scions in Minneapolis, MN? Reach out to us.
Rudy Luther Toyota Scion is a Toyota and Scion dealership that provides new and used cars for sale to customers in Golden Valley and Minneapolis, Minnesota. We also sell to people in Crystal, St. Louis Park and Minnetonka, Minnesota.