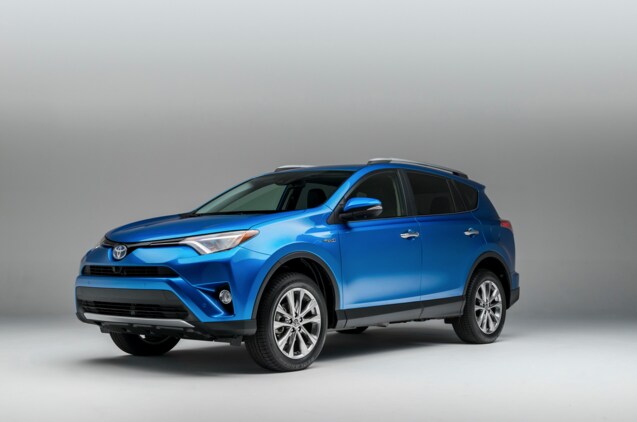 "Even in times like these when gasoline is dirt cheap, Toyota seems to have come up with another hybrid that makes sense."
That's what USA Today, one of the most respected publications in the country, said about the 2016 Toyota RAV4 Hybrid. Are you intrigued yet?
The 8th hybrid vehicle in the history of the company has seen stunning reviews since its release, and not because of fuel economy. It's somehow managed to find a beautiful balance between economical sensibility and power. Our Toyota dealership in Golden Valley, Minnesota couldn't be more excited for this model.
Buyers will get 34 miles per gallon in the city and 31 miles per gallon on the highway, with an overall average of 33 mpg. Those are pretty awesome numbers, and a big step up from the standard RAV4's 22 mpg city and 29 mpg highway marks.
But you already knew that was coming.
What you didn't know is that the 2016 RAV4 Hybrid also comes with more power, producing 194 horsepower. It can go from 0 to 60 in 8.1 seconds, which is 0.9 seconds quicker than the original model.
"It's not just an MPG monster. You get better performance," says Toyota specialist Brian Williams.
That's not it, though. The starting MSRP price for the hybrid edition is just $700 more. So you really wouldn't be paying that much extra for the upgrade. It's definitely worth the money.
"With more power, superior gas mileage and only a $700 premium, it's hard to see how buyers can pass up the hybridized version of the popular SUV," USA Today says.
If you'd like, you can take at our 2016 Toyota RAV4 Hybrid inventory by
clicking here.
We have a few in stock, and we'd be more than happy to answer any questions that you might have!
Contact our Toyota dealership
in Golden Valley, Minnesota for more information. Are you looking for the 2016 Toyota Camry for sale in Minneapolis, MN? Let us know.
Click here
if you're looking for Toyota service in Minneapolis, MN.
Click here
if you're looking for Toyota parts in Minneapolis, MN.
Click here
for directions to our Scion dealership in Golden Valley, MN. Are you looking for Scions in Minneapolis, MN? Reach out to us.
Rudy Luther Toyota Scion is a Toyota and Scion dealership that provides new and used cars for sale to customers in Golden Valley and Minneapolis, Minnesota. We also sell to people in Crystal, St. Louis Park and Minnetonka, Minnesota.