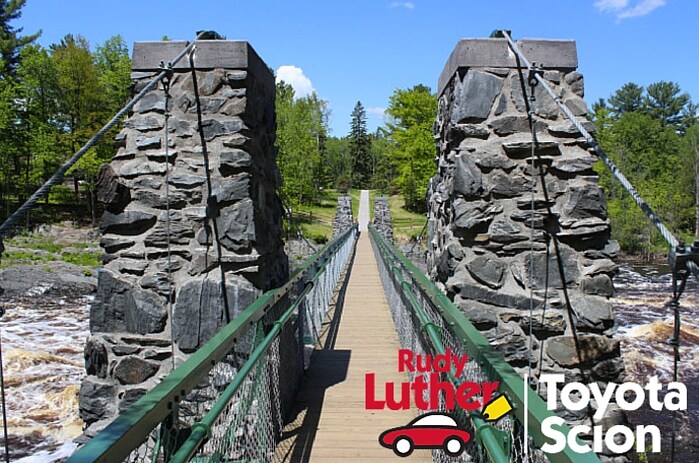 Minnesota has a ton of landmarks and interesting attractions to visit, but this might be one of our favorites.
If you're like us, you love scenery. Fortunately, our great state has plenty of that to offer, and the swinging bridge at Jay Crooke State Park is one of them. There's really nothing quite like it.
The first swinging bridge at this location was built in 1924, and it was only made out of logs and rope. And for some crazy reason, people went across it. Yes, this was BEFORE Fear Factor.
Ten years later, stone pillars were added in order to make the bridge a bit sturdier. Then 16 years later in 1950, the whole thing was destroyed by a massive flood. Three years later, it was rebuilt.
It's been through some major storms and floods since then, but it still stands today. Thankfully, it doesn't swing nearly as badly as it did back in 1924, but if you stand right in the center and look down at the St. Louis River below, it can be quite a thrill.
Jay Crooke also offers lodging and fun things to do around the area. Located in Carlton, it's a 2-hour drive from the Golden Valley area. If you ask us, that's a pretty fun weekend idea to take advantage of.
What are some of your favorite places to visit in Minnesota? Let us know on our
Facebook page.
Click here
if you're looking for Toyota service in Minneapolis, MN.
Click here
if you're looking for Toyota parts in Minneapolis, MN.
Rudy Luther Toyota Scion is a Toyota and Scion dealership that provides new and used cars for sale to customers in Golden Valley and Minneapolis, Minnesota. We also sell to people in Crystal, St. Louis Park and Minnetonka, Minnesota.