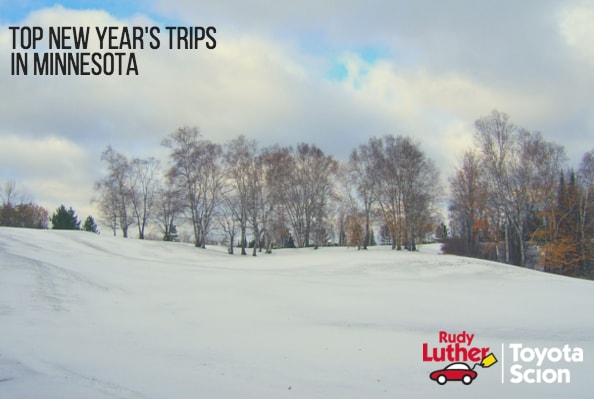 Many families enjoy taking small trips during the holiday season. Minneapolis is a great place for short day trips with the family.
But where do you go close to Minneapolis? Look no further, Minnesota's top Holiday destinations are coming your way, courtesy of Rudy Luther Toyota Scion.
Go Skating at Renaissance Depot Hotel. Ice skating is synonymous winter activity, and if you're looking to visit one of the top 10 ice skating rinks in the country, The Depot Rink can't be beat. Founded in 1899, the Depot Rink is a favorite of Minnesotans because it's heated, and it features floor-to-ceiling windows along the walls that allow you to skate while taking in the Minneapolis skyline. There's plenty of concessions around the rink, serving food ranging from soups, chili, and pizza. Older skaters can grab a glass of wine or a craft beer if they're thirsty. The Depot Rink truly has something for everyone.
Visit the American Swedish Institute's Nordic Christmas. Looking to bring some international flavor to your Christmas this year? Take a visit to the Nordic Christmas at American Swedish Institute. If you have young children, they will love this lively exhibit, full of yule goats, elves, and trolls. The ASI's effort to present traditional holiday folklore through art pieces is a must see for families. Don't miss out!
Run in the Minnesota Polar Dash. Turkey Trot events are very popular around Thanksgiving time. For those looking to be more active this holiday season, and burn off all that comfort food, consider running in the Minnesota Polar Dash on January 1st. The best part about this event is the massive benefit to the community. Runners, whether competing in the 1500m, 5k, or 10k race, raise money for the Shriners Hospital for Children. At the end of the race, you'll receive a steaming cup of hot chocolate.
Minneapolis is full of fun holiday destinations. Go see them!
Contact our Toyota dealership
in Golden Valley, Minnesota for more information. Are you looking for the 2016 Toyota Camry for sale in Minneapolis, MN? Let us know.
Click here
if you're looking for Toyota service in Minneapolis, MN.
Click here
if you're looking for Toyota parts in Minneapolis, MN.
Click here
for directions to our Scion dealership in Golden Valley, MN. Are you looking for Scions in Minneapolis, MN? Reach out to us.
Rudy Luther Toyota Scion is a Toyota and Scion dealership that provides new and used cars for sale to customers in Golden Valley and Minneapolis, Minnesota. We also sell to people in Crystal, St. Louis Park and Minnetonka, Minnesota.