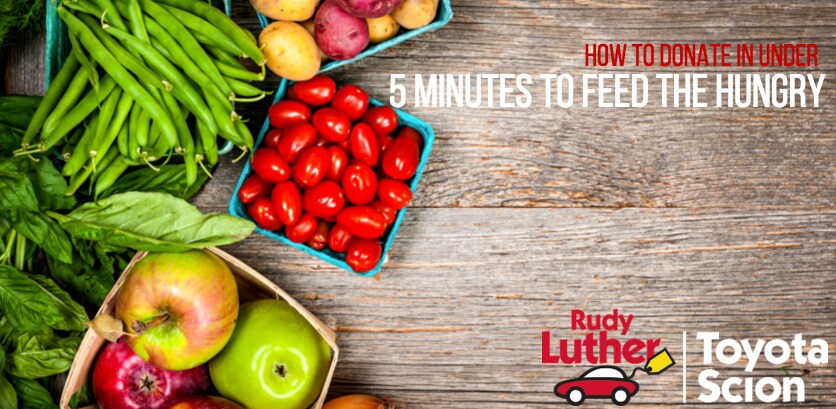 There's a problem in our community: hunger. And we want to fix it.
Our team here at Rudy Luther Toyota Scion has always been very active in charity and we strive to make our world a better place. No one deserves to go hungry. That's why we've started a virtual food drive with the help of Second Harvest Heartland.
And guess what? You can help in just under five minutes.
At the very least, we encourage you to donate to this cause and help us feed families throughout Minnesota and Wisconsin.
Every penny and dollar count for something. We accept any amount, and your contribution would help more than you could ever know. We thank you in advance for your support.
If you'd like to do more, that's amazing. We'd be happy to have you. Second Harvest Heartland saw more than 33,000 volunteers in 2014, and chipped in 147,000 hours of volunteer time. That's HUGE. We're looking to continue that trend. Be a part of it today.
If this cause is something you're passionate about, get involved with us. Through Second Harvest Heartland, you have the option to start an ongoing promotion, host a food and fund drive or host and event that benefits the organization. Click on the link above to get started.
We appreciate you being a part of this. Let's make our world better today.
Contact our Toyota dealership
in Golden Valley, Minnesota for more information. Are you looking for the 2016 Toyota Camry for sale in Minneapolis, MN? Let us know.
Click here
if you're looking for Toyota service in Minneapolis, MN.
Click here
if you're looking for Toyota parts in Minneapolis, MN.
Click here
for directions to our Scion dealership in Golden Valley, MN. Are you looking for Scions in Minneapolis, MN? Reach out to us.
Rudy Luther Toyota Scion is a Toyota and Scion dealership that provides new and used cars for sale to customers in Golden Valley and Minneapolis, Minnesota. We also sell to people in Crystal, St. Louis Park and Minnetonka, Minnesota.